Event Production
Custom SOFTWARE & Hardware
2018.12.05
As part of the promotion for JRA's Horse Racing Festival 83rd Nippon Derby event, Tongullman developed three digital contents.
・ "FORTUNE DERBY" which reads user's palms and generates its own unique horses and races.
・ The rhythm game "Super rhythm jockey" where the user races a horse by playing drums.
・ The race game "full power derby" where users compete by stepping as fast as possible.
These three games where enjoyed by thousands of people at the event site in Shinjuku Takashimaya, Tokyo.
Super Rhythm Jockey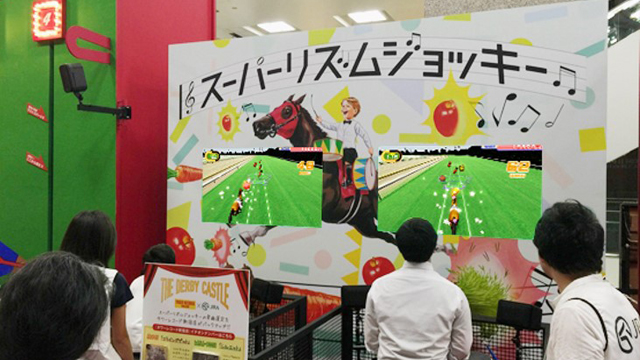 It is an experience-based attraction game combining horse racing and music, where a racehorse travels through the Tokyo racecourse while eating food by hitting an electronic drum according to the rhythm of the music.
We adjusted the placement of the food to match the timing of the movement of the horse to match the song so that the user can hit the drums happily.
In addition, by putting in the cut-in during the curve, we designed to change the impression of the game screen to not get bored.
Overall design, we adjust the UI and level design to be a pop taste so that children can enjoy.