As part of the promotion for JRA's Horse Racing Festival 84rd Nippon Derby event, Tongullman developed three digital contents inside of "THE DERBY CASTLE".
・ "FORTUNE DERBY" which reads user's palms and generates exclusive destiny horses and races.
・ The rhythm game "Super rhythm jockey" where the user races a horse by playing drums.
・ The race game "full power derby" where users compete by stepping as fast as possible.
These three games were enjoyed by thousands of people at the event site in Shinjuku Takashimaya, Tokyo.
Full Power Derby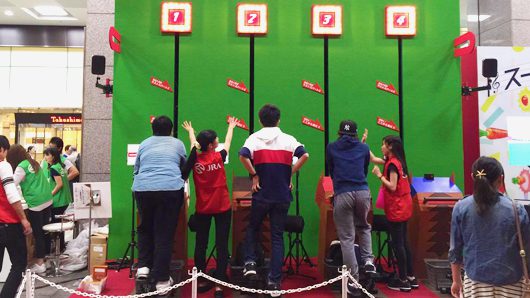 Using a fitness stepper machine, we were in charge of the camera application of the race attraction where the model horse runs upward as you step quickly.
If you pass a specific point in the second half of the race, your face will be shot with your full strength face and your face will be shot with your iPad camera, and after the race, you will see a full strength face picture and QR code on each iPad You can access these photos anytime.