Event Production
Motion Control
2019.08.08
As part of the promotion for JRA's Horse Racing Festival 83rd Nippon Derby event, Tongullman developed three digital contents.
・ "FORTUNE DERBY" which reads user's palms and generates its own unique horses and races.
・ The rhythm game "Super rhythm jockey" where the user races a horse by playing drums.
・ The race game "full power derby" where users compete by stepping as fast as possible.
These three games where enjoyed by thousands of people at the event site in Shinjuku Takashimaya, Tokyo.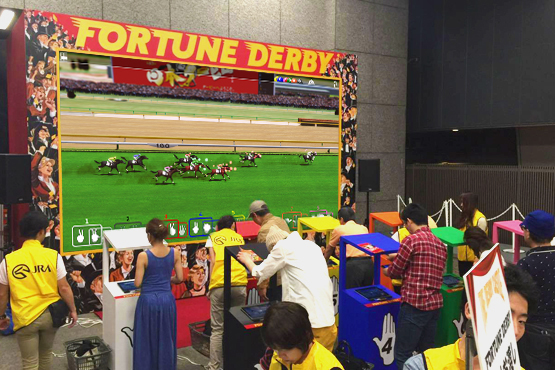 FORTUNE DERBY
Tongullman created several promotional mini-games that expanded upon the theme of horse racing. Envisioned as a group activity for up to 8 players, Fortune Derby is a game were players use hand gestures to control their horses' speed and actions. As the winner's horse passes the finish line, their photo is taken and printed automatically. Super Rhythm Jockey uses drumkit controllers in a first-person racing rhythm game. Tongullman installed these mini-games at a Japan Racing Association event, with the purpose of creating a lively and memorable experience for participants.