Tongullman developed the smartphone version of FORTUNE DERBY, as part of the promotion of the 83rd iteration of JRA's Horse Racing Festival Nippon Derby event.
FORTUNE DERBY is a smartphone-specific browser game that allows users who can not participate in the event to play from their smartphone.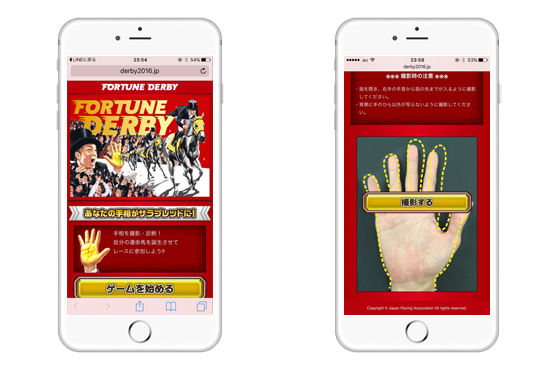 The user takes a picture of their hand using the smartphone camera and the app analyzes the palm's image. The app then generates an exclusive "Destiny Horse"from the results of the hand Palm analysis.
The generate horse is registered in the database, and it will grow by appearing as a rival horse in the next and subsequent races in the game.
In the game, continuous input such as swiping will geneate power, and when the power bar reaches the max level a special ability can be activated.
With easy operation and easy-to-understand UI, people of any ages can enjoy this minimal but full-fledged game.