2021.10.21
UI/UX Solution Alliance with Global Development Company EGO Creative Innovations
We have started providing UI/UX as a new business solution in alliance with EGO Creative Innovations (referred to below as EGO) and several other companies with Ukrainian roots.
This would enable us to deliver modern, great-looking and universal designs, meeting the needs of clients in Japan and beyond.
Ukraine has a foundation for advanced science and mathematical education and has been rapidly developing in recent years as a software development spot for large and small companies due to its richness in excellent and skilled developers, designers and other IT personnel, with the price of labor still relatively low.

Realizing the benefits that EGO's experience and global outreach offers, Tongullman saw an excellent opportunity to establish a fruitful partnership and introduce innovative services to the Japanese market.
The concept is "Vibrant User Interfaces -User Interface that makes you smile, and then smiles back at you-"
We provide UI/UX that not only literally moves and is visually interesting, but also deepens your understanding while having fun.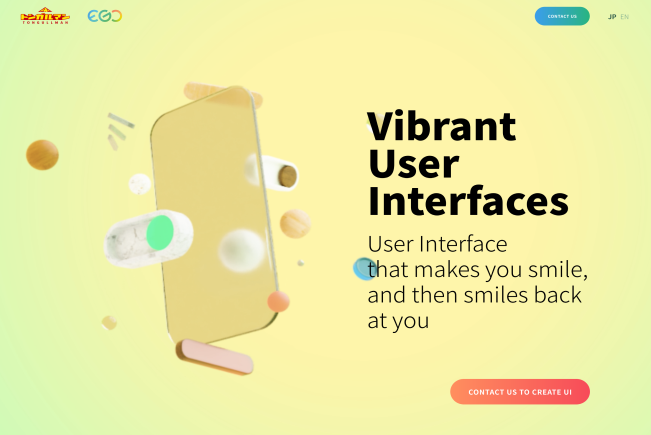 We have all kinds of technology-based ideas to exceed the expectation of our clients and deliver excitement and happiness to their customers.
For more information…
Service Page (JP):https://tongullman.co.jp/solution/uiux/
            (EN):https://tongullman.co.jp/en/solution-en/uiux/
About EGO Creative Innovations : https://www.ego-cms.com/
Dribble EGO : https://dribbble.com/ego_creative
EGO Showreel 2019 : https://www.youtube.com/watch?v=LvsEucXyw5g
PR TIMES : https://prtimes.jp/main/html/rd/p/000000004.000075861.html